elydesia posting in

ethosa
Hallor
Warrior -> Reaver ; Spirit Warrior
Once a mercenary, he now travels with Viveil and Alienne, completing assassination jobs throughout Thedas. He also serves as Alienne's bodyguard against Templars.
Alienne
Mage -> Blood Mage ; Force Mage
Her family originally from Orlais, they moved to Tervinter soon after she showed signs of being a mage. They lived as servants to a friend of her father's until she was sold to the Antivan Crows.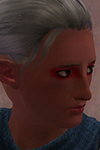 Viveil

Rogue -> Assassin ; Shadow

The team leader and informant. Not very much is known about him other than he is quite skilled, and an elf.


code by

cawaii